Expedition Vehicles not motorhomes.
Trucks designed, built and equipped to take you to the most remote parts of the planet safely, in comfort.
The design of Truckmaster Expedition Vehicles has developed after over 30 years of traveling around Australia in all types of four-wheel drives, camping caravanning and motorhomes. Realising most caravans and motorhomes were ill-equipped and poorly designed to withstand the harshness of outback travel and fell way short in self-sufficiency, we went about building a vehicle that allowed extended, self-sufficient travel into remote parts of our planet.
Our design is not built to a budget, we tailor our design to suit the clients' needs and fabricate each component to withstand the harshest corrugated roads and still have all the creature comforts and luxuries when arriving at the ideal remote camp spot. This is why we call our vehicles Expedition Vehicles not motorhomes. They have huge fuel and water tanks, lithium and solar power systems built on a 4WD truck chassis of your choice.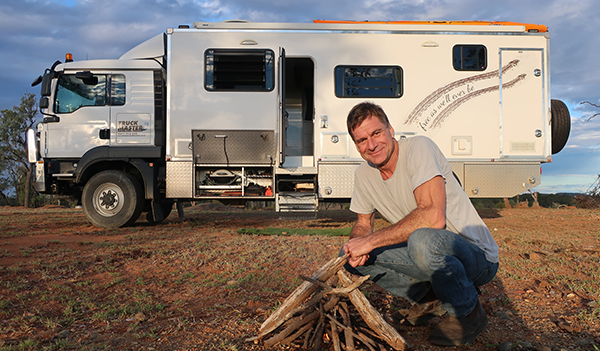 Truck Master Founder, Matt Exley has extensively toured the Australian Outback and coastlines in Truckmaster's flagship expedition vehicle based on the proven MAN 4WD chassis.
The first Truckmaster expedition vehicle was completed in 2000, built on a 4×4 Mitsubishi Canter, later transferred to the larger Mitsubishi Fighter. The Mitsubishi Fighter travelled over 200,000km all over Australia including tracks such as the Strzelecki & Birdsville tracks.
Matt's engineering background in mining, construction and marine industries, has given him the skills to design Truckmaster's body mounting system and his construction method, water and power systems.